Arctic Coast provides tours all year round in combination with Hurtigruten voyages between the ports of Kjøllefjord and Mehamn (32 km by road). The tours are normally booked in conjunction with Hurtigruten voyages. See our booking page for more information.
During the Arctic winter (December to May), Arctic Coast provides exhilarating snowmobile tours through the Polar Night and across the Arctic tundra by day.

Read more about our snowmobile tours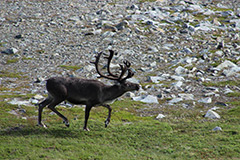 In spring, summer and autumn, Arctic Coast offers Sámi culture and cuisine excursions. Learn about the noaidi shamans, sample traditional foods such as reindeer meat, cloudberries and reindeer broth, and try your hand at reindeer lassoing!